Hi all! We have had a fairly uneventful week around here, which is always a nice thing. My parents came into town Tuesday night, so Emmy played hooky on Wednesday with Mimi.
This first pic is Emmy with her cousin Hays at the zoo last Friday . Hays' daddy is my brother Jay and today is uncle Jay Jay's birthday. Happy birthday!
Fell asleep 10 minutes into the trip home after the zoo.
On Friday, right before the storms rolled in.
I have better pix from Easter on the big camera, but this is the best pic I could get of Emmy on Easter.
My crazy sleeper.
And the trend continues.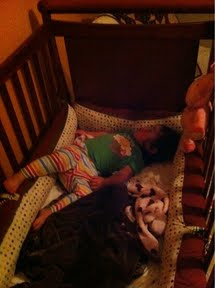 Happy Friday!