Wow. It's been a long week.
As chris was returning home Monday from the college world series-he received the news that his grandma had passed away. Today we laid Ollie L. Sanders to rest. Her body is completely healed-and all of heaven's occupants can now enjoy her fried pies!
Here are some other happenings from this week:
This is going to be a very clogged toilet!!!
Whoa mama. I am so spoiled by the AC. I thought I was surely 2 degrees away from melting. Thank you AC repair guy for making weekend service calls (and for charging me that extra arm and leg for it) so that the remainder of my weekend could be enjoyable.
Putting lo-lo on Uncle Greggy's sunburn.
Gotta keep your neck clean while eating milkshakes.
Brooklyn, Emmy and Jackson enjoying their drinks.
I love my little garden. Now, just waiting for the rewards of my hand pollinating (please squash, JUST GROW!!!!)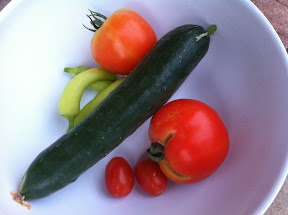 Hope you all have a wonderful weekend. My sis and favorite niece and nephew with the initials GG are coming to visit.