I love these iPhone Friday posts because I will be able to look back someday at our day to day happenings. What I DO not like about them though, is that it makes me very aware of how fast time is going by.
Picnic with our neighbors, Emma Jane and Lucy.
The sanders house has 2 ketchup addicts. That is a half gallon of milk next to the "bih-dip". Hopefully this will last us awhile.
Gettin her hair did. This was pre-haircut by a few days. I will post on that soon- after I get the last few whispies trimmed up.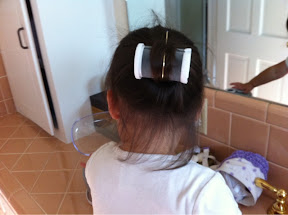 In a meeting yesterday. I found the perfect foot rest.
Happy Friday all. Enjoy the weekend.