Last Friday I picked Emmy up from school early. I get off of work at 230 on Fridays and sometimes I have errands to run sometimes I don't. So we came home and asked "puppies, walk??" so we did.
Chris and I had lots o' help putting together the new swingset for miss priss.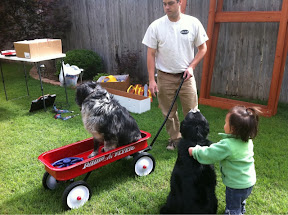 Emmy and her first strike!
Just putting the new swim skills and confidence to use.
She had to have her hair wrapped in a towel like mama.
Happy Friday! We are headed to KS this weekend for a high school graduation. Hoping to get back early enough on Sunday to enjoy some fried goodness at Mayfest.