I'm going to start a new weekly post called "iPhone Friday" with random pix from the week. Will someone out there in the blogosphere please hold me accountable?
Because we wouldn't want to get frosting on our hands as evidence of eating the cupcake (cup-kee).
Even from nosebleed, this was SO much fun. Note to self: buy tickets earlier next time this event comes to Tulsa.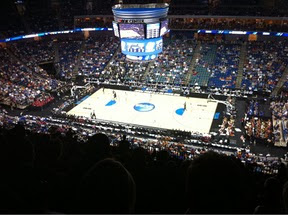 Our maple tree is blooming! This is the tree we planted in remembrance of our heaven baby. I still think it was a boy... Someday I will get the chance to find out.
Hot mama metal!!!! I went an toured the Norris facility unburied today, they make rod strains and couplings. This was just one of many steps. These rods go through many rounds of heat to refine them.
I'm just gonna let you use your imagination here. Anyone know what this is?